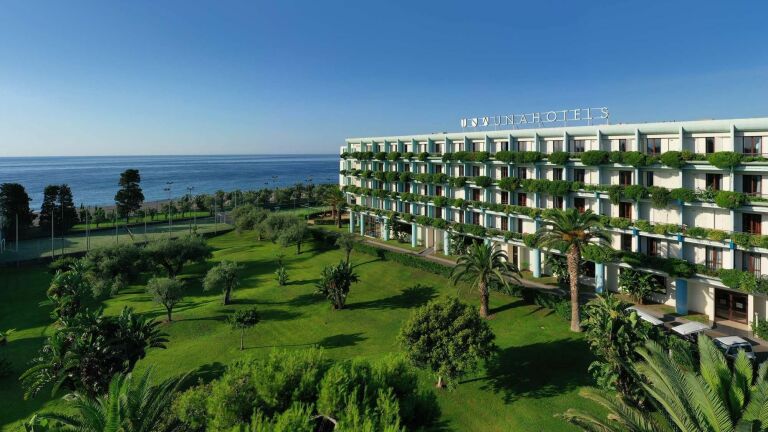 The Venue: UNAHOTELS Naxos Beach
Thanks to its excellent location, UNAHOTELS Naxos Beach Sicilia is the ideal solution to experience a relaxing and fun stay in Sicily.
With its extensive meeting and event spaces, sports facilities – including four swimming pools – and private beach, the hotel and its villas are surrounded by the scents and colors of a private citrus park. UNAHOTELS Naxos Beach Sicilia's 4 bars and restaurants serve authentic Sicilian cuisine made from fresh local products. Its wealth of tailored services and refined, peaceful rooms ensure that guests experience a unique taste of la vera Sicilia.
The Catania "Fontanarossa" International Airport is about 50 km from Giardini Naxos.
Please note that the Catania "Fontanarossa" International Airport has been expanded and improved. The new airport is called from May 5th, 2007 Catania " Vincenzo Bellini" International Airport.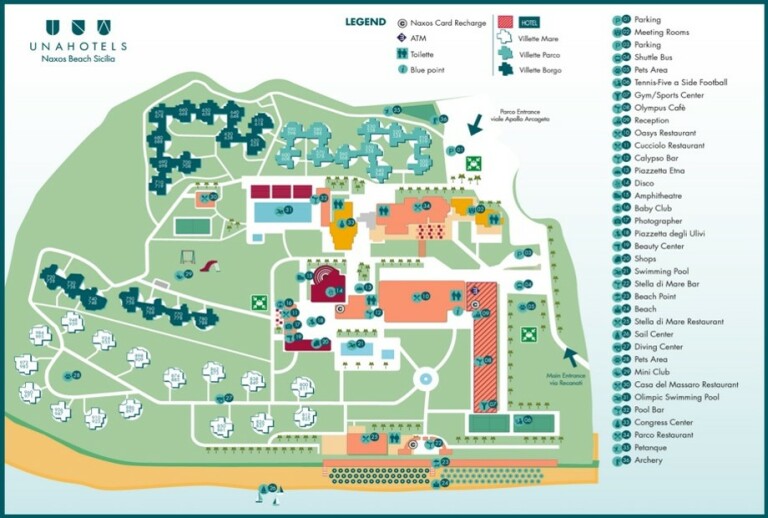 Take the Interbus (the stop is on the right exiting terminal A) for RECANATI – Giardini Naxos. The timetables can be consulted directly on the portal www.etnatrasporti.it. The duration of the journey is approximately 1 hour. Tickets can be purchased at the kiosk near the bus stop. 
It is possible to continue on foot to UNAHOTELS Naxos Beach Sicilia (ex ATAHOTEL Naxos Beach), which is about 700 m away: follow viale Dionisio in the direction of driving for about 50 m, turn right into viale Jannuzzo and follow it for about 350 m, then turn into via Recanati and then right into via Pietro Rizzo up to the hotel entrance.
MeMeA attendees can book rooms for the Symposium period at discounted rates:
Single room 115 EUR per day (June 21-25)
Double room 153 EUR per day (June 21-25)
Please note that these rates are valid until May 18, 2022. Please directly contact the venue if an extension of the booking period is required.
Overview
With key public health and health system indicators continuing to improve, Italy is cautiously and gradually easing public health and workplace safety measures.
Thanks to the official UNAsafe Protocol the UNA Esperienze, UNAHOTELS and UNAWAY hotels welcome guests back with a unique and extraordinary safety related services package.
For the adequate management of meetings, events, conferences and exhibitions, specific protocols and rules of conduct have been activated, maintaining high hotel standards and careful safety procedures. More flexible cancellation policies are also available.

For guests or external customers without a Green Pass and participants to events and meetings that take place within a UNA Esperienze, UNAHOTELS or UNAWAY hotel, Gruppo UNA offers a pre-event Covid-19 rapid test service

The Green Pass (COVID-19 Green Certification) has been conceived to facilitate the free and safe movement of citizens in the European Union during the COVID-19 pandemic; proof to be vaccinated or tested negative or cured of COVID-19. In Gruppo UNA hotels, guests are required to show their Green Pass in compliance with current regulations.